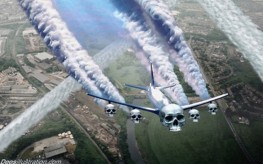 naturalsociety.com
Chemtrails:
Earth Solutions
Chemtrails?... shmemtrails. Cut the paranoia about...
"Persistent contrails." It's just "vapor trails" filling the sky. And we need them anyway, to protect us from global warming, right?
Maybe.
7 May 2017
Breathing Cockpit & Cabin Air

Up in northern New England, using high-powered binoculars. I watched the-whatever being emitted from the tail section of unmarked white planes. Not from the forward jet engines at all. Some observers have noted spray-emitters tucked under wing flaps along the whole wingspan.
http://in5d.com/wp-content/uploads/2016/03/12822236_10208801567187341_77712802_n.jpg
Chemtrail Plane Interior
Update:
Have been watching the weird sky-blurring for fifteen years or so. It helps to be an early riser, waking to the last stars and walking to meet first light.
While citizens sleep, jock-jets, often partnered in fours, begin doing parallel spew, laying down X's and crosses, improbable swirls. Chemtrails even span broad daylight, but who's looking; it's just contrails, right?
Heck of a curious flight pattern, usually preceding expected rain, and often nowhere near busy airports. Air on earth begins to smell chokingly-foul.
The "trails" smog once-luminous sky, sometimes causing oily sun halos and oil-scum on puddles. After one particularly gross chemtrail-rain, coastal puddles lay an oily dark red--on the organic farm of friends.
In well-watered New England, heavy spewing in advance of weather front brought deluge, field crop wash-out and two summers ago, Irish potato blight.
Now watching the phenom in arid Rocky Mountains, spew-planes materialize as weather-harbingers, in advance of hoped-for rain and snow--Spew occludes a once-brilliant sky, and the weather front fizzles out--in another form of crop failure, called drought.
Co-inky-dink of long observation, as the US government and military have openly boasted about "Owning the Weather."
Anything else on that agenda?
Unusual contents of chemtrail fallout have been reported from lab analysis--soaring levels of aluminum, barium, strontium, heavy metals,
ethylene dibromide,

as well as
blood cells, micro-organisms, mycoplasma...
Jet exhaust?
USAF Whistle Blower:
Problem:
Hospital Emergency Room admissions--for severe respiratory distress, asthma attack, pneumonia, flu-like symptoms--often spike up that night, and over the next day or two. Children and the elderly being particularly affected.
"Chemtrail cough" may persist for months thereafter, a dry hacking non-productive cough which interrupts sleep of self and the whole household. People complain of "allergies."
One winter of particularly heavy chemtrail spraying in New England, the cough pandemic was treated as pertussis, whooping cough. Many prescriptions for antibiotics.
Note to gardeners and hikers: Staying outdoors all day under heavy chemtrail spraying can trigger a more severe immune reaction. Outdoorsy holidays, like America's Fourth of July celebration, often feature arrival of unmarked chemtrail planes overhead.
Chronic fatigue syndrome and fibromyalgia cases appear to have increased since the spraying operation began. Those made ill report mental fog and short term memory embarrassments.
As an aside, aluminum functions as a savage neurotoxin, and is found in shriveled Alzheimer's brains on autopsy.
Aluminum is also implicated in the etiology of Parkinson's.
It will be up to whistle blowers to come forward with the why of it, the justification for spraying civilians, farms and watersheds all over the world.
Rep Kucinich tried to stop the chemtrail operation in Oct. 2001, but the bill was gutted, tabled and disappeared. Chemtrails were described in the bill as an "exotic weapons system."
Dec. 2011 Update:
A just-the-facts-ma'am Chemtrail, "Geo-engineering" documentary has been produced, "What in the World Are They Spraying?"--by Michael Murphy and G. Edward Griffin (who wrote Creature from Jekyll Island.)
The film ends with a request to freely copy the DVD--let people know what the US, Canada and NATO countries are spraying above civilian populations. A friend lent me a copy, which had been handed out at the local "Occupy" protest against corporate and government abuses.
I put off watching it, as I had seen earlier chemtrail videos which just leave the viewer feeling desperate and impotent--a possibly desirable condition from the standpoint of control freak government.
I was startled at the quiet, dogged passion of this film. G. Edward Griffin in particular kept "What in the World Are They Spraying?" focused on:
1) Lab analysis by courageous scientists and physicians.
2) Toxic fallout of aluminum, barium and strontium on agricultural lands, forests and watersheds.
3) Worldwide concern for the health of future generations.
April 2013 Update:
Solutions:
1) Dr. William G. von Peters, OMD, NMD, PhD, has formulated a homeopathic detox-remedy, "Chembuster." His Preventative Medicine clinic is located in the US, Tennessee. He travels annually as visiting professor to teach Alternative Healing at medical schools abroad. Tel:

423-265-5838
http://www.lifequestformulas.com/ecom-prodshow/ChemBuster.html
2) Useful resource; free download of "What in the World

Are They Spraying?"
http://www.globalskywatch.com/
3) Given that folks seem to be having a toxic reaction to the spew's fallout, both immediate and chronic, consider Chlorella, a fresh water alga. Best post-Fukushima source: "Clean Chlorella" from
www.naturalnews.com Chlorella is recommended in the protocol to recover from heavy metal exposure, including the removal of mercury-amalgam fillings.
4) Chemtrail-cough of many months' duration has been resolved using a garlic elixir, easily made at home. For recipe, see:
www.feastandfamine.blogspot.com/2009/11/garlic-elderberry-for-oink-flu-blues.html
5) The probiotic, Kombucha, seems to build immune strength and vitality, while also flushing out toxic body burden from chemtrails and daily living. In Europe, Kombucha can even be found in pharmacies, as MD's prescribe it in the event of catastrophic or chronic disease states.
Making Kombucha at home is not as easy a recipe as garlic elixir. For convenience, you can find bottles of it in the cooler-section of health food stores.
If you're up for a kitchen adventure in good health, here's the Kombucha-how-to; scroll down: www.feastandfamine.blogspot.com/2009/05/flying-pig-flu-power-up-immunity-with.html
6) Croft Cloudbuster: A more u

ser-friendly

derivation of

Wilhelm Reich

, MD's

research, people are building these intere

sting widgets

in their backyards in a grass roots movement, local, community and global. Reich wanted to break drought (good idea

.)
Croft, a garage type inventor and genius dude, began futzing with the design and found that a cloudbuster seems to enhance garden health, and break up smog, chemtrail or otherwise, returning that cloudbuster-bles

t

area to blue skies and

cumulus

clouds.
Image below is from ap

ar

tment balcony

in Belgium.

CB's can be set

in a forest

, a lawn, a labyrinth, a f

arm, or among the petunias!
Not hard to construct, and not expensive, they seem to work most effectively when an area is gridded with several. There's something of a David and Goliath story here--couple hundred dollars on the ground vs. billions spewing in the sky. Croft ga

v

e the how-to-make specs

away free on line:
http://www.whale.to/b/cloudbuster1.html
For worldwide anecdotal reports, see

Part 2, Grassroots Derring-Do at "Babel of Towers:
http://feastandfamine.blogspot.com/2009/01/preparedness-in-interesting-times-babel.html
7) For further

details

on chemtrail contents an

d

detox protocols, see:
http://feastandfamine.blogspot.com/2011/04/unforeseen-gift-of-fukushima.html
8

) Chem-crud in drinking water: All life has its being nourished by water, which is increasingly polluted, rivers, ocean, and flowing into our homes. Corporate-dominated government apparently has locked into a different bottom line than those who weigh the effect of decisions "unto seven generations."
As we come to grips with dead-end corporatist policy, our communities continue to ingest immune-weakening pollutants in drinking water: intentional fluoride and chemtrail fallout; careless radiation, pharmaceuticals and heavy metals. Let's first take care of our families with an effective water filter.
Conclusion:
Who flies and maintains unmarked chemtrail jets? Surely there are fine men and women among them. How on earth can they fly above civilian populations with high tech navigation, and no moral compass?
Are they induced to poison air, farmland, forests and rivers, where their own families live, for "national security." With the added threat of Court Martial for questioning orders?
Or do mercenaries of Blackwater ilk sit at the controls, drawn by big bucks and macabre power? Are they provided with drugs from the military's arsenal, to enhance performance and focus on the task at hand?
America is busy waging resource wars, rewarding Wall Street, and bankrupting itself. At some point, even black ops may run out of funding.
For now, chemtrails continue as a "known unknown." The Military-Industrial-Complex--which Ike warned us about in his presidential farewell address--seems to be enjoying carte blanche to foul the aerial-Commons.
Who can change the US trajectory of mayhem and corporate profiteering?
Congress? (insert laugh line.)
Oath Keepers? We can hope.